Last night I was pretty pleased at Obama's ability to continue his 10 state streak. Yes. It wasn't entirely unexpected, I know. At heart I am given to pessimism which doesn't quite make me a natural Obama supporter. Actually a lot of us tend to operate as if we are still behind.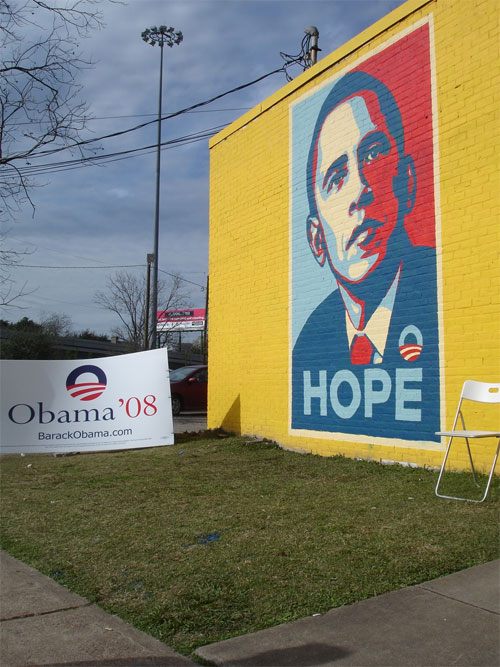 There is Texas where recently Clinton had a 30 point lead, and now that has narrowed to pretty much even given the margin for error. It is said that Hillary has deep links to Texas that will make her hard to beat. She has the Hispanic vote and the Ann Richards liberals. Texas along with Ohio worries me. If she wins both that could lead to bringing in Florida and Michigan votes in, and bring the Super Delegates over to Clinton just to quickly get things over with. The thought of that happening made me glum for most of the morning. I firmly believe that if Hillary wins John "100 Year War" Mccain will win the presidency, and it isn't out of the realm of possibility that the democratic party would take a self-destructive turn like that. It would deflate the enthusiasm that has been created by Obama's campaign.

It turns out as an Obama supporter I may have to thank Ronald Reagan and Tom Delay if Obama wins Texas. A Reagan-appointed judiciary allowed the republicans to gerrymander Texas and regain control for the first time since Reconstruction. This gerrymandering went on steroids with Tom Delay which lead to a democratic revolt across state lines. The way districts were split up made it really hard for the democrats to get state seats, but that means that it will make it hard for Hillary to get the votes she needs. That is not all. The way that the Texas Democratic Party rules are set up can also make it difficult for Hillary. Nevertheless, the guy who ran Clinton's campaign in California believes they have a winning strategy.


"...the campaign has a three-pronged strategy for success: early voting, strong turnout at the March 4 primary, and a good showing at the caucuses. Only people who voted in the primary are allowed to participate in the caucuses."
Turnout for early voting has already
been amazing
. In Harris County the first day turnout in 2004 was only 728 people, but this year the first day turnout was 9,243. In Dallas, first day turnout went from 913 in 2004 to 8,615. These are both places where there are alot of young voters and African-American voters that favor Obama and award more delegates than districts that favor Clinton.
"

Turnout was up too in the

Rio Grande

Valley

, an expected

Clinton

stronghold, but the increase wasn't as dramatic. In

Hidalgo County

, the number of voters rose from 3,858 (2004) to 5,793 (2008)."
Early voting ends on February 28th.
US Representative Chet Edwards from Waco (17th District) endorsed Obama. Edwards is also a super delegate.
"If she wins in Texas and Ohio I think she will be the nominee. If you don't deliver for her then I don't think she can. It's all on you."- Bill Clinton